Geomatics, Land Surveying, & Mapping
Caulfield and Wheeler, Inc. was established in 1982 as a specialized surveying and mapping firm. For almost 40 years, the firm has continued to grow and diversify and is now recognized as a leader in the field of geomatics, land surveying, & mapping. Caulfield and Wheeler has 21 fully equipped field crews, and offers a full array of surveying services; including high definition laser scanning, automated hydrographic surveying, topographic surveys, boundary surveys and platting, vertical / horizontal geodetic control surveys, photogrammetry, construction stakeouts and as-builts, mean high water (tidal) demarcation surveys, and right-of-way surveys. The firm also has specialized expertise in inland waterway, marsh, transitional region, coastal, and oceanographic data acquisition.
Services have been provided throughout the Southeast United States and clients have included many government agencies such as the U.S. Army Corps of Engineers, Jacksonville and Mobile Districts, State of Florida Department of Environmental Protection, Florida Department of Transportation, South Florida Water Management District and a multitude of local counties and municipalities throughout the State of Florida. Thousands of projects have been completed to date, encompassing a full range of survey assignments.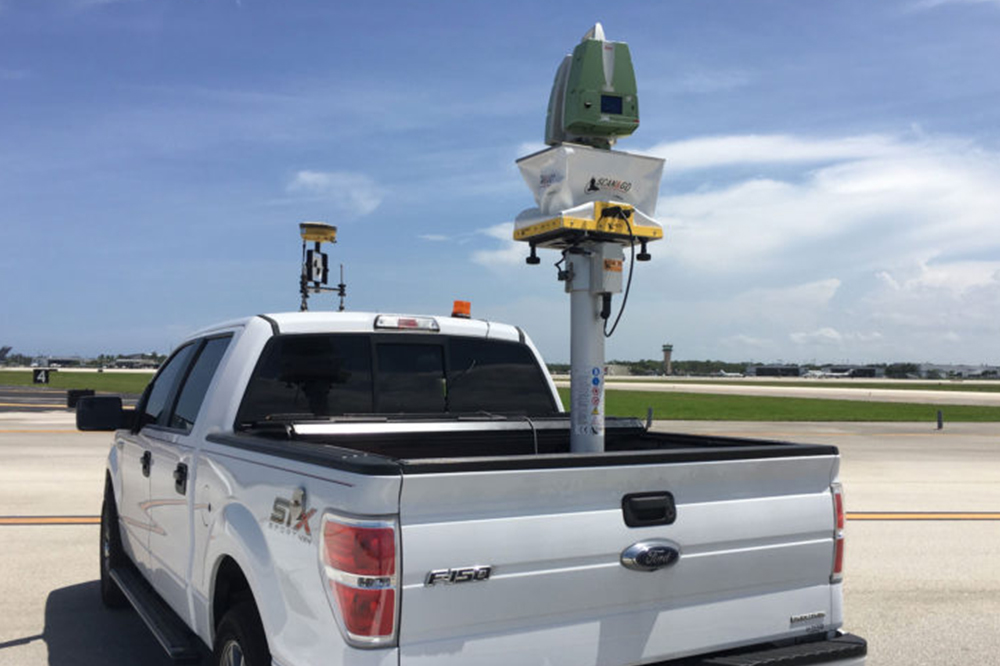 [3D Laser Scanning for Runway 9R-27L at FLL International Airport, Fort Lauderdale, FL]
Scope of Surveying Services Provided:
Topographic Planimetric Surveying and Mapping
Feature location
Photogrammetric verification
Coastal topographic surveys for beach profile monitoring programs
Topographic surveys for detailed design of major engineering projects
Topographic surveys for construction layout and alignment and as-built purposes
Surface and subsurface surveys on beaches, levees, canals, breakwaters, groins, embankments, and other similar structures
Cadastral/Boundary Surveys
Mean high water demarcation and ordinary high water demarcation
State lands boundary establishment and erosion control line recording
Property surveys
Plat Preparation
Right-of-Way Surveys
Recovery and location of existing right-of-ways
Research and acquisition of all previous right-of-way maps and plats
Location of easements or encumbrances
Automated Hydrographic Surveys
Beach nourishment and monitoring programs
Offshore hydrographic surveys for coastal monitoring projects
Coastal inlet hydrographic surveys for inlet management programs
Channel condition and monitoring
Pre- and post-dredge hydrographic surveys for quantity estimates and as-built chart preparation
Inland lake and canal hydrographic surveys
Wetland and transitional area surveys for environmental programs
Horizontal and Vertical Geodetic Control Surveys (GPS Surveys)
Control establishment for planning, design, construction or maintenance of engineering projects
Photogrammetric and LiDar control support
Control establishment for GIS programs
Additional Surveying Services:
Fema Elevation Certificate Surveys

ALTA/Land Title Surveys

Geographic Information Systems Services (GIS)
Geomatics, Surveying, & Mapping Projects: